3 Remote Trends That Coronavirus Has Accelerated in China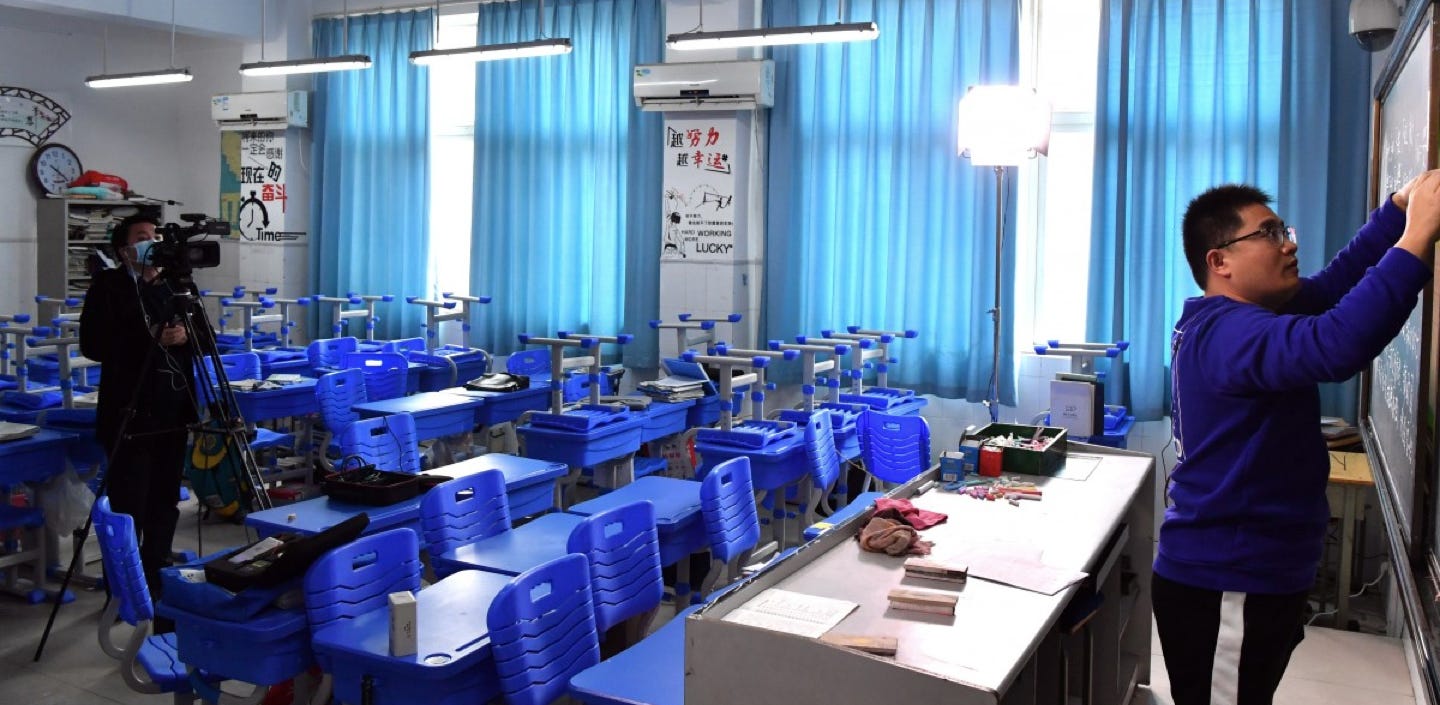 A traditional classroom teacher gets ready to live stream a class in China. Source: Xinhua
In 2003, SARS jump-started China's e-commerce industry. Taobao, launched during the height of that epidemic, is now the world's largest shopping website.
This year, Coronavirus is poised to become what Bill Gates calls a "once-in-a-century pathogen." For tech, the virus will dramatically accelerate several trends that are already underway. China, which has been under lockdown since January, is at the forefront of these trends:
1. Remote work 
Chinese collaboration apps like Alibaba's DingTalk, Tencent's WeChat Work, and ByteDance's Lark are topping the App Store as millions of people work from home. WFH in China might not be all it's cracked up to be however, especially if you have an insecure manager:
"I am so mad. My supervisor asked me to send them a selfie every half an hour, and share my real-time location with them using WeChat…" 
- Social media post in China (Quartz)
2. Remote learning
Online education is finally taking off in China as students continue their classes at home. Over 600,000 teachers are using Tencent's DingTalk to live stream classes to their students. Many students aren't happy to have their stay-at-home vacation interrupted by DingTalk. As a result, they've flooded the App Store to give the app one-star reviews. Here's an example, followed by Dingtalk's social media response:
"My holidays! I love DingTalk, say no more, there is one star for you."
- DingTalk App store review

"Young heroes please spare my life, you all are my papas."
- DingTalk official Weibo post (The Star)
3. Remote entertainment
A dinner, movie, and a stroll in the neighborhood are no longer viable options for people living under the fear of Coronavirus. Instead, people in China are getting food delivered to "contactless" vending machines:
After dinner, they'll burn off their calories by working out to a live stream:
And then, they'll get some fresh air on their balcony before getting their temperature checked by a drone:
Remote work, remote learning, and remote entertainment — I think these trends are here to stay even after the virus passes.
---
🔥 If you like this post, join 1,000+ others who are subscribed to my newsletter about product management, tech trends, movies, and more. My goal is to provide as much value as possible in no more than one or two emails a month.
You can also check out my product management book.