The Race to Win Online Checkout
Dear subscribers,
Several forces have conspired to make online checkout the center of attention:
COVID has accelerated retail's shift from offline to online.

Starting an online store is easier than ever due to Shopify and other platforms.

Creators are making a living selling digital goods directly to consumers.
Yet, 70% of online shopping carts are abandoned. Why is this the case and how are companies solving this problem?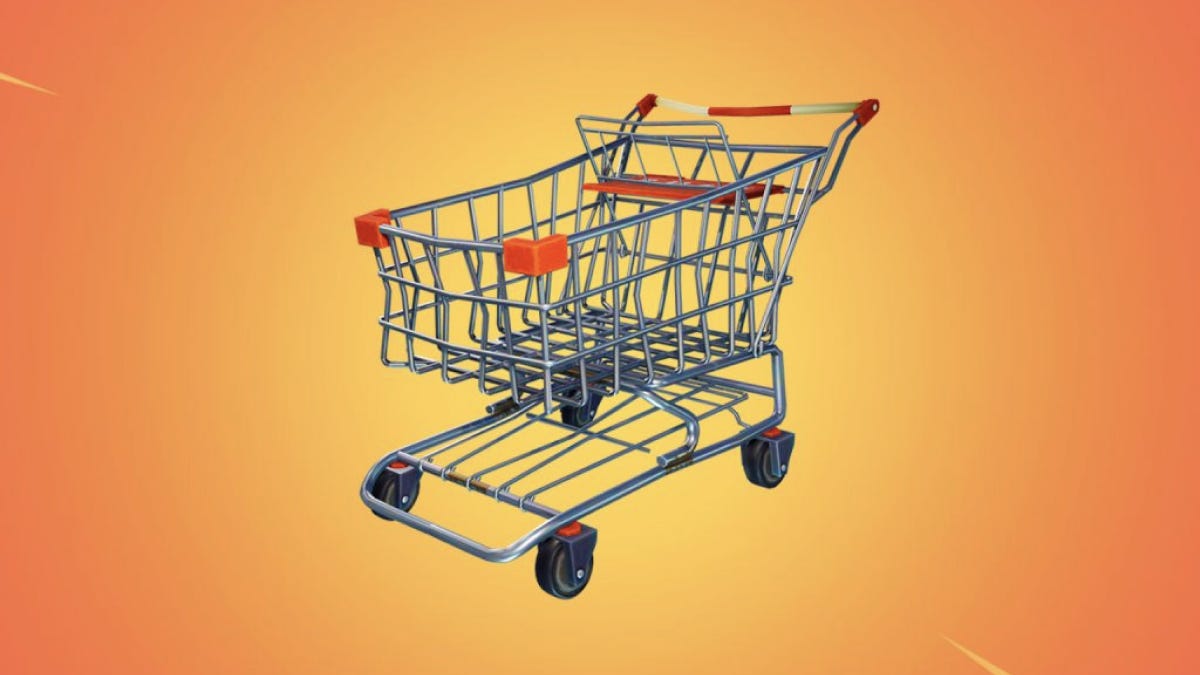 ---
What is the customer problem?
Think back to the last time you purchased a product online (excluding Amazon). You probably struggled with:
Filling in long forms only to be surprised by extra costs.

Creating yet another account that comes with passwords and inbox spam.

Sharing payment information with a store that you don't trust yet.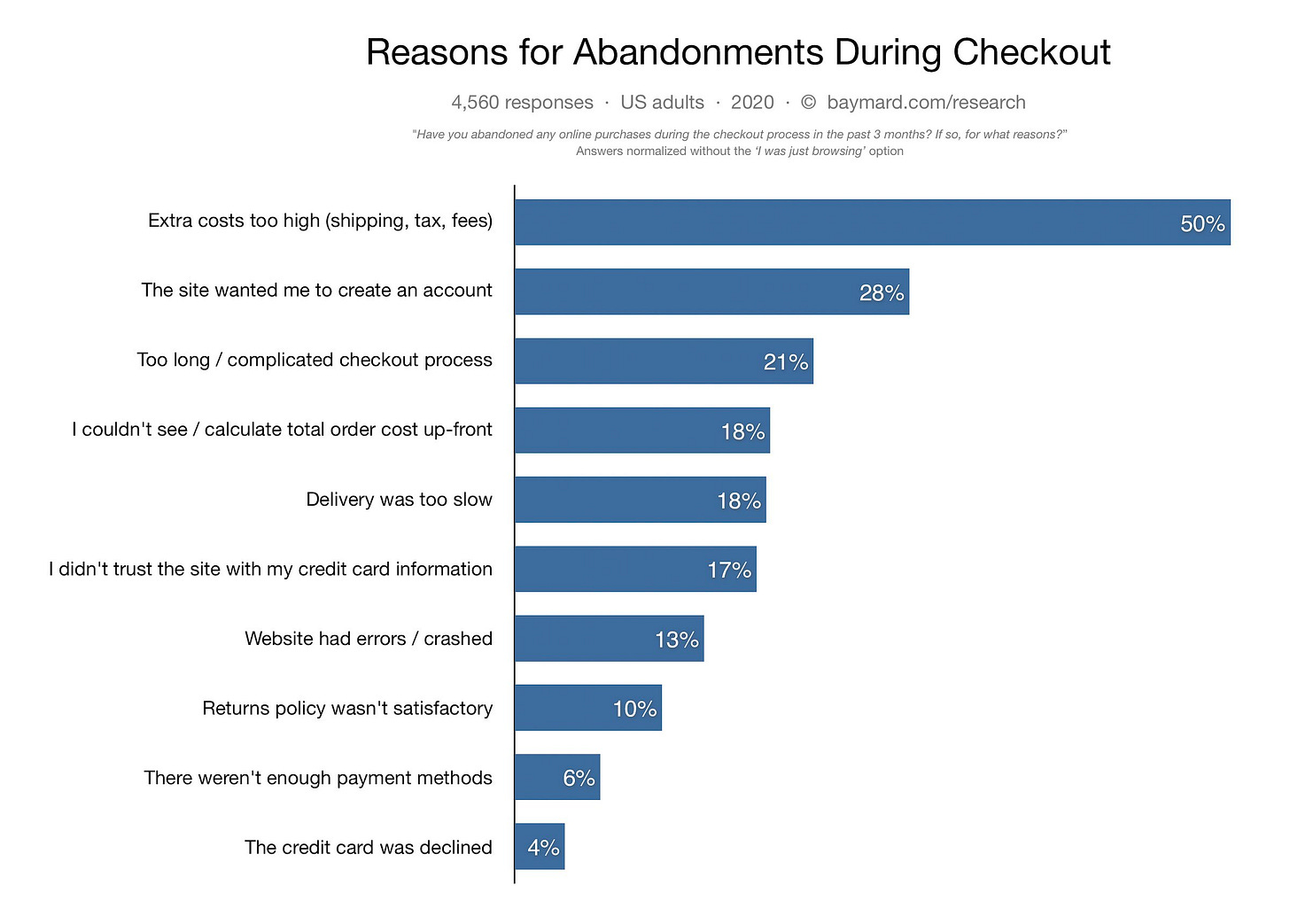 Sellers understand these problems well. They want to give buyers a checkout experience that feels:
Instant with minimal forms and transparent prices.

Secure without forcing buyers to remember passwords and credit card details.

Personalized with their branding and add-on features like coupon codes.
Top e-commerce players like Amazon and Walmart have built many of the features above. But millions of small businesses are moving online for the first time due to COVID. These businesses don't have large engineering teams or big budgets. Instead, they need a checkout experience that's easy to set up and cheap to run.
Sellers, of course, don't think about checkout in isolation. To convince a buyer to purchase their product, sellers need to think about the entire customer journey:
Set up an online store

Get buyers to visit the store

Help buyers find a product they want

Let buyers check out and pay

Fulfill orders

Process refunds and disputes
With this journey in mind, let's take a look at how companies are solving the checkout problem for buyers and sellers.
---
Who's in the race to win online checkout?
From large incumbents to rising startups, the best companies are working to improve online checkout. Let's take a look at the major players:
Amazon

Apple Pay and Google Pay

Shopify and other e-commerce platforms

Stripe
1. Amazon
Amazon has the largest share of US e-commerce sales by far (37% vs. 6% for its closest competitor, Shopify).

Amazon patented "1-click checkout" all the way back in 1999. The idea is simple: Buyers can unlock the ability to buy almost anything on Amazon with one click after entering their payment information once. Amazon's patent expired in 2017, and now competitors are racing to bring one-click to the rest of the web.
For sellers, the Amazon channel is hard to ignore. In addition to 1-click checkout, the e-commerce giant has a built-in audience (200M people visit every month) and best-in-class fulfillment and delivery (Prime now offers same-day shipping). 
But many sellers are wary of selling exclusively on Amazon. The biggest issue is that it's hard for sellers to differentiate their brand and product from everyone else on the platform. When every product page looks the same and when Amazon's private label products get preferential treatment, competing on anything but price becomes difficult.
As a result, many sellers want to establish a direct relationship with buyers through their own websites. Amazon is going after this need too, with Amazon Pay letting them add a Pay with Amazon button to their shop pages. I haven't seen this service take off with sellers, probably because many of them want to build a brand outside of Amazon's influence.

2. Apple Pay and Google Pay
Building off the large installed base of iPhone and Android users, Apple Pay and Google Pay offer buyers a trusted checkout experience, especially on mobile.
However, unlike Amazon, neither Apple nor Google offer robust seller services beyond checkout. As a result, fewer small businesses have adopted these services, although that's changing with e-commerce platforms like Shopify providing them by extension.

3. Shopify and other e-commerce platforms
Shopify is now #2 in US e-commerce sales (6%), higher than eBay and Walmart.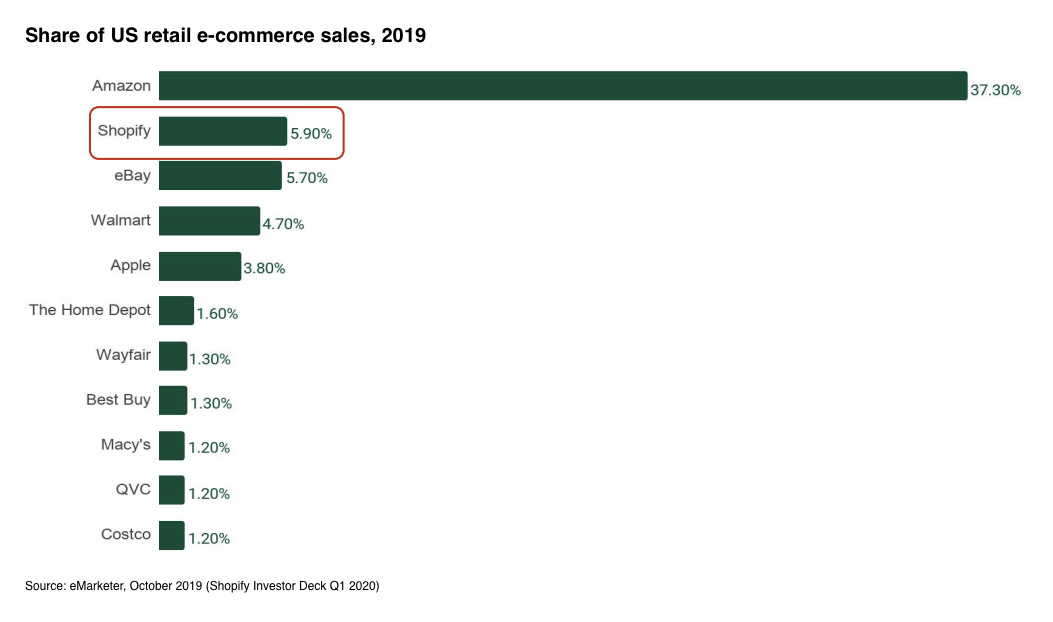 Shopify's strategy to "arm the rebels" by providing an all-in-one commerce solution is working. Sellers (mostly creators and SMBs) can use Shopify to set up their online store, reach customers, process payments, and even fulfill orders all using one tool.
Shopify's checkout solution has processed over 1.8 million orders to date. The company also offers Shop Pay, which lets buyers check out with one click if they're already signed up on another Shopify seller website.
Although Shopify is the leading e-commerce platform by a large margin, competitors like WooCommerce and BigCommerce are also growing. BigCommerce recently partnered with Fast, a buzzy startup that's focused exclusively on delivering one-click checkout. Like it's larger competitors, Fast lets buyers checkout with one click after creating a Fast account. I think the Fast's key challenge is seller adoption, so partnering with BigCommerce to provide checkout to the latter's customers is a smart move (remember that sellers don't think about checkout in isolation).
4. Stripe
To me, the most interesting company working on checkout is Stripe. Stripe has its own checkout solution that lets developers accept payments with a few lines of code.
Yet, Stripe's goal is to become the payment infrastructure of the internet. In other words, Stripe APIs power checkout for Shopify, Fast, and perhaps even Amazon. With this strategy, Stripe doesn't need to compete for seller attention head-on. Instead, Stripe has created a win-win model where it succeeds through its partners.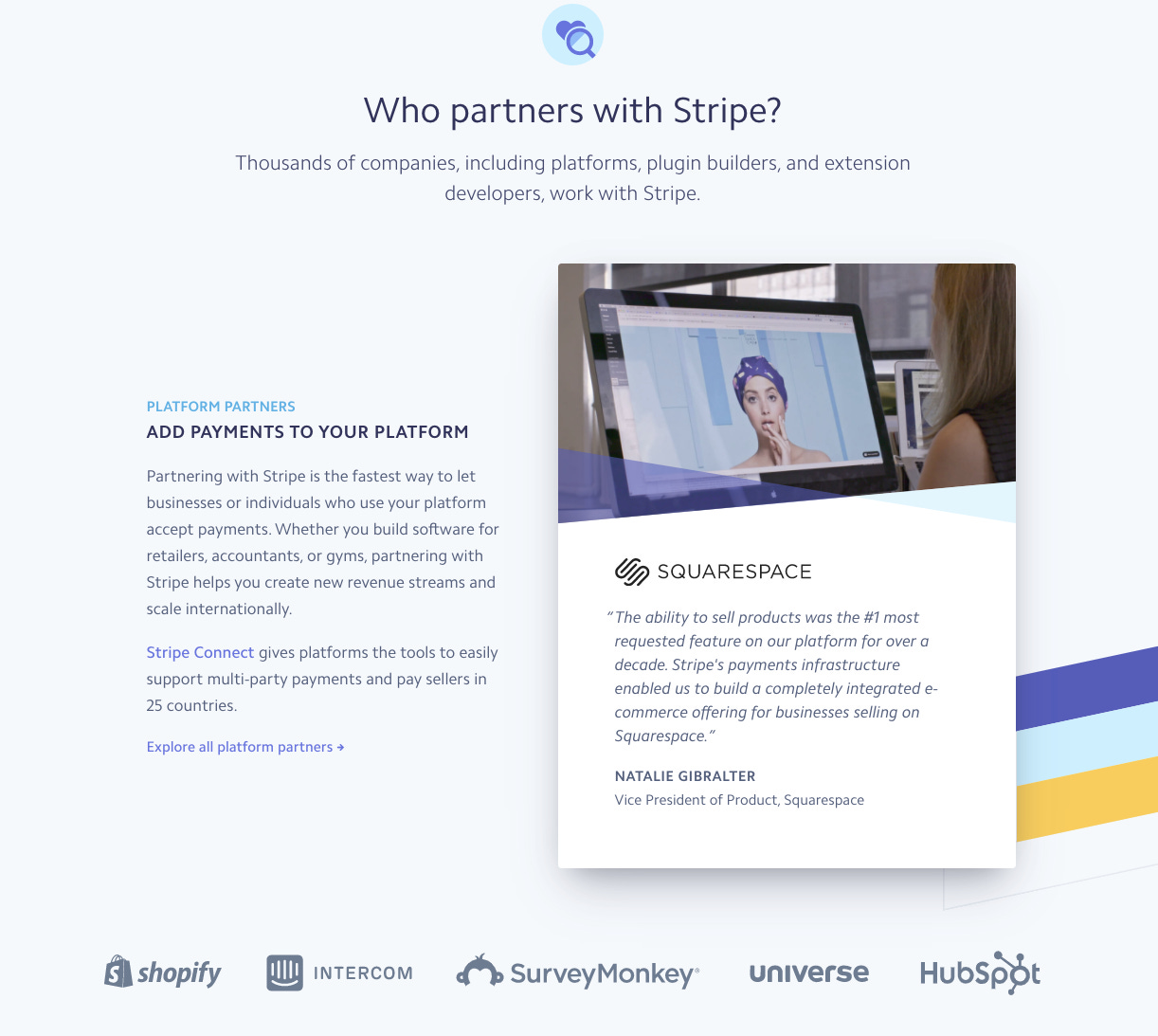 This approach is powerful, but it comes at the cost of not owning a direct relationship with every seller. For example, Shopify could one day decide to build it's own payment solution or switch to one of Stripe's competitors. 
---
As a seller, getting buyers to visit your online store and become interested in buying your product is hard. So when you finally convince a buyer to make a purchase, losing them in the checkout experience is just heartbreaking.
In my previous post, I wrote about how great products ride waves of change. The rise of e-commerce (and sellers wanting to sell via their own properties) is a massive wave that has only gained momentum from COVID. Whether the strategy is to leverage an existing audience (e.g., Apple and Google), deliver an end-to-end seller solution (e.g., Shopify), or build payment rails for everyone else (e.g., Stripe), it'll be fascinating to see which company will become the first to deliver one-click checkout across the web.
If you enjoy this post, I would love to connect with you on Twitter.